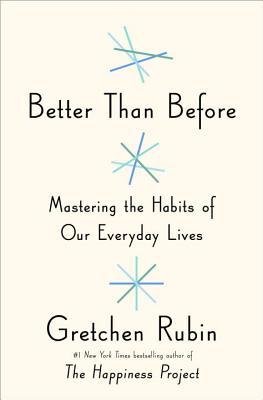 I! Love! Books! Like! These!
I'm a fan of learning how people live the details of their life. What do you do when you put nail polish on? What's your morning routine? Do you pick out what you're going to wear ahead of time? Do you have an eating schedule?
I could listen to people talk about this stuff forever. Well, some people. Not everyone. ;)
Very much related to this, I LOVE books about habits– the every day routines and things we do that make up our lives. How do you choose what habits you want to keep and get rid of? How do you actually follow through?
Well, in true Gretchen Rubin project (most known for her book The Happiness Project –read my post about it) she combines research, with personal story, with advice to create a book all about HABITS and how to go about forming them.
What I love THE MOST about this, is she never really tells you what habits you should form. She focuses more on the tools of helping you understand yourself the best you can in order to set yourself for success in creating these habits you are interested in creating.
Yes, her biases to some habits are SUPER blatant (low-carb eating for one), but the thing that she has learned in this path that she makes clear is that there isn't one right way to do everything. A good habit is right for YOU.
While she doesn't have a list of habits you might be interested in, due to the nature of how she talks about habits and the experiences she shares, you do get some good ideas of habits you might be interested in trying too!
I listened to this on audio, and she narrates it herself. She has a pretty clear voice and not very distracting. It's a good one to listen to while you're doing chores or driving. Because she's trying to write a book that will help people with all different methods of living and functioning, some of it isn't always directly applicable- but! Still interesting. :)
Also, in true Gretchen Rubin form she mentions A LOT about where she got her research from– not in a heavy handed way, but in a useful and storytelling way– so if you're interested in learning more she definitely gives you direction!
Interested? Add it to your to-read list!